I know most of the library acquisitions in the bunker have been to get us prepared for the coming conflagration, but as we suffer through the death throes of society, I can't help but think of the need for some humour. Things will be grim. We need laughs.
Of course we need the collected Austen because:
For what do we live, but to make sport for our neighbors and laugh at them in our turn?
And in close quarters for long periods of time, we will need all the elegant snark we can get:
I do not want people to be very agreeable, as it saves me the trouble of liking them a great deal.
Barbara Pym is a must, too, though her sadly disappointed characters might also be a tad depressing at times. Dorothy Parker without question: mordant wit may be among our few escapes from the gloom. Gaskell's Cranford stories for quieter times, when you want to know the ladies have got your back. And Georgette Heyer for when you've just finished re-reading all the Austen and can't bear another dull conversation about cleaning out the air vents.
Bunker Am Dram cannot survive without a production or two of Aphra Behn's The Rover.
And I must say a special word for my much adored inspiration, the lovely Winifred Watson. If you've not read the novel behind the delightful Miss Pettigrew Lives for a Day you are in for a treat.
Who are your favourite fun writers? I admit most of mine are, alas, beyond the veil. Got some more modern recommendations?
Katemandi here: I can't say enough about pantries! For the end times you need food. Sure, you might be out hunting in the woods for some critters or foraging in the underbrush for mushrooms and other edibles, but stocking up your pantry ahead of the collapse is just good sense.
Of course you need food that will last a while. Perishables are useless! Think dry dry dry. You'll be adding water of course in most cases, of course. If you don't have water — well, honey, I got news for you: you won't be surviving. So think powders, jerky, dried grains and nuts. Salt! In the medieval and ancient worlds, it was a precious as gold. Not just for flavour but for its preservative qualities.
Which brings me to another point: spices! You don't have to belong to House Atreides to recognise the importance of spice! You're going to be eating a lot of bland food that's been reconstituted. You'll be grateful for those spices. The good news is that spices keep for a long time if they're completely dried and well sealed.
Speaking of sealing: have you learned canning yet? The techniques for storing delicious fruit in jams, jellies and preserves is not to be overlooked. You can even can meat, my friend Mary tells me (I got these snaps at her fabulous home at Universal Pathways). The skills are out there: learn them before you need them. You don't want to poison your crew with poor pantry skills. Be safe, be delicious.
Save
Mæg ic be me sylfum    I can make a true song
soðgied wrecan,    about me myself,
siþas secgan,    tell my travels,
hu ic geswincdagum   how I often endured
earfoðhwile    days of struggle,
oft þrowade,    troublesome times,
bitre breostceare    [how I] have suffered
gebiden hæbbe    grim sorrow at heart
The Seafarer, tenth century Anglo-Saxon poem
How do we survive the days of struggle? How can we cope with enemies who besiege us from every side? The relentless assault is their primary weapon.
It wears us down.
It helps to remember important things: They're on the wrong side of history. The majority of people are against them. Those who profit from fear have rigged the rules to win the game — they couldn't win on merit alone. So they gerrymander districts, campaign on lies and when all else fails, control the media.
Make no mistake: they want you to give up.
What kills is letting it rule you. Fight, be determined but be joyful whenever you can. Concentrate on what you can affect. Look at the grand sweep of history: this is the last gasp of the troglodytes. Yes, they might kill us. I remember the Reagan years and all the beautiful people who died. But they will NOT have my joy even if they kill me. I will laugh in their faces when they do.
Tips on surviving and on staying active in your resistance are out there. LAUGH!
Save
Oh, you knew it was just a matter of time! Looky there, Avenger and Bond Girl (and overdue for GGSA Idol status) Honor Blackman stars with stalwart Richard Briers and the legendary Alan Ford — and a bunch of young folks — in the latest zombie apocalypse with a twist and a few guffaws. You can bet the Apocalypse Gals will be there!
Cockneys v Zombies: the trailer (h/t to Lochee for the heads up!)
[youtube=http://youtu.be/H0hap9XRg6o]
by Katemandi, Last Girl on Earth
What if they were 13 men, eh? I love how often men approach the apocalypse as the site for wish-fulfillment. Women tend to imagine worst case scenarios: perhaps those two tendencies are related…
[youtube="http://youtu.be/r_Ss-zf504Q&w=400″]
Dig that high hat! The Renegades rock.
[youtube="http://www.youtube.com/watch?v=HP7lIjlJ2I4&w=400″]
The earlier version by Bill Haley & his Comets
by The Shloo
Shoot to kill and can 'em up.
That's it in a nutshell. There are few philosophies smarter because when the world's getting its apocalypse on you have few other choices. Best you get your head round that from the get-go.
I started shooting when I was eight years old. Air rifles mainly, but by ten I was shit-hot with a bow and arrow. Mum always said they'd make the best weapon anyway – when the bullets run out, who's going to be making new ones? Arrows, on the other hand, are relatively easy to make. I can shape a bow out of a piece of willow  – or pretty much any tree with enough bend in it  – in less than three minutes. A clutch of arrows will take me another five, tops. Robin Hood would weep at the skill in my fingers.
And I never miss.
Our bunker's pretty sweet. There's a room full of bunk beds that are more comfortable than they look, a pretty well-equipped kitchen, a library, a bathroom, a canning room – my Mum's mantra is 'waste not want not' – and a big communal living area. Dad and Zeke worked hard and it paid off. Speaking of Zeke, my brother and I were both trained in and for almost anything you can imagine: hand-to-hand combat, gas attacks, nuclear fallout, weapon making, foraging, first aid – you name it, we went over it. Sewing's my weak point, truth be told, but at least I've stopped sewing stuff to my jeans and Mum says I sew a pretty strong stitch. That's what matters.
Of course, I've not had what you might call a normal life.
Hardly a surprise, is it? Survivalists? Maybe, but we call ourselves "sensible" – what else would you call those not blind to the inevitable? I was picked on sometimes at school, but after the suspension – and the scrum half's snapped wrist (thanks Dad, for those self-defence drills) – I was left alone. I didn't go to dances, never been for a sleepover, never even sat with anyone else for lunch. I didn't get to do any of that 'normal' stuff. Getting attached to people only makes it harder in the long run. It would have made me sad once (I've got hormones and hopes just like anyone else), but you've got to focus on what's important.
To hell with normal anyway!
Is it normal to sit and wait for Johnny Mutant to come eat your brains? To wait while the nuclear fallout burns through your guts and your brain spills out the bottom of your spine? To pretend there's hope, that someone out there's coming to save you? They're not, y'know. If you don't want to end up a splatter-fest of ex-human, then you'd better get wise.
There's no time for frills and fancy, there's only one prize and that's life – or at the very least dying on your own terms. I'm old enough to know that. The future is about survival. It's all it's ever about. I wised up to that the day I heard Dad telling Zeke that me and Mum were the weak link, that we were the ones who would most likely slow them down and that if he needed to get rid of us, he wouldn't hesitate. I didn't understand. I was a good learner, better than Zeke who was a lazy crumb. I was better with a bow and arrow and I could climb a tree in half the time he could. Just because he could dig earth for longer, I was the dead weight? Like digging a hole and carrying heavy stuff makes the difference when the chips are down? As far as I could see, the difference that marked us out in Dad's mind was that I was a girl and Zeke was a boy – his boy. I was eleven years old and from that day on I hated my Dad, hated him for marking me out as mattering less because I'm a girl, for seeing me as an albatross and not an asset. It was also the day I decided one thing –
I wasn't going to be left behind. You shouldn't be either.
Ironic really that Dad was the first to get bit. I had to shoot him; Zeke froze like he'd learned nothing all those years. Typical. So I shot my Dad in the head and then when Zeke got violent a couple of months later – the isolation got to him bad – and went all frothing-at-the-mouth crazy, I shot him too. If he hadn't tried for the door I wouldn't have had to do it. We don't know what's out there. Still, at least his death won't be in vain. Mum can pickle anything and what's left goes in the cans.
So that was the last of our bullets. Mum and me? We won't need them, we're prepared.
    Visit The Shloo on Facebook or drop by her blog.
by Katemandi, Last Girl on Earth
What would you do to keep your family alive?
We tend to think of the zombie apocalypse with pyrotechnics, unspooling in the crowded streets of big cities with ample armed forces in place to protect the citizens from the ravening hordes (at least at first). But what happens off in the periphery where people are left to their own devices?
From Familiar Productions LLC, director Ryan Lieske brings to life a gruesome little tale from acclaimed horror writer (and super-nice person) Elizabeth Massie. Abed offers a unique angle on the zombie narrative, one that focuses the horror on the human costs. In the interests of full disclosure, I should say that some of the folks involved in the film are friends and I was part of the Indiegogo project that funded its filming (and thus get a thanks along with all the funders in the credits). I think this will become more common as projects go direct to their potential audiences for funding and cut out the middle men.
For a film with a shoestring budget, it looks awfully good. There's a texture and palette to the visuals that lends richness to the story. The acting is mostly quite natural and convincing, especially stars Rachel Finan (Meggie) and Daniel E. Falicki (Quint) who carry the film by providing its heart. I found Mama, played by Vicki Deshaw-Fairman, a little too mannered at times, but not distractingly so. There was an extra level of creepiness for me because it was filmed near where I grew up, so the familiarity of the landscape and accents made the story even more uncanny. Great make-up and art direction. The music by Tom Ashton enhances the atmosphere without ever overwhelming it.
I've watched a lot of horror films and find it rare to actually feel horror while watching one: Abed will fill you with horror. Like a lot of Massie's tales it's not initially the "in your face" kind, but subtly creeping up until you wonder how things got so bad. This is a truly unsettling story; not for everyone! Lieske and crew have done a wonderful job at bringing the story to life. You invest in the characters and believe in the lengths people will go to for the ones that they love. You'll shudder. This film will stay with you. Well done.
It's going to be making the rounds of festivals, so with luck news soon about distribution. Drop by their Facebook page for updates.
Buy the original story for 99¢
by Katemandi, Last Girl on Earth
Got zombies? Need to predict their next move? You need the Zombie Tarot!
Our fave zombie novelist Dana Fredsti has reviewed the deck at length, which she calls, "cool, clever and beautifully illustrated."
Lyn over at the Witch Blog has a wonderful video review of the brand new tarot deck designed for the vagaries of the undead apocalypse: Zombie Tarot. Let's have the lovely Lyn take over:
Drop by the Witch Blog for all your witchy needs! Drop by Zhadi's Den to keep up with Dana's climb up the ladder of success. And pre-order your tarot deck today!
Know Your Idols #26 Saga Noren
by Katemandi, Last Girl on Earth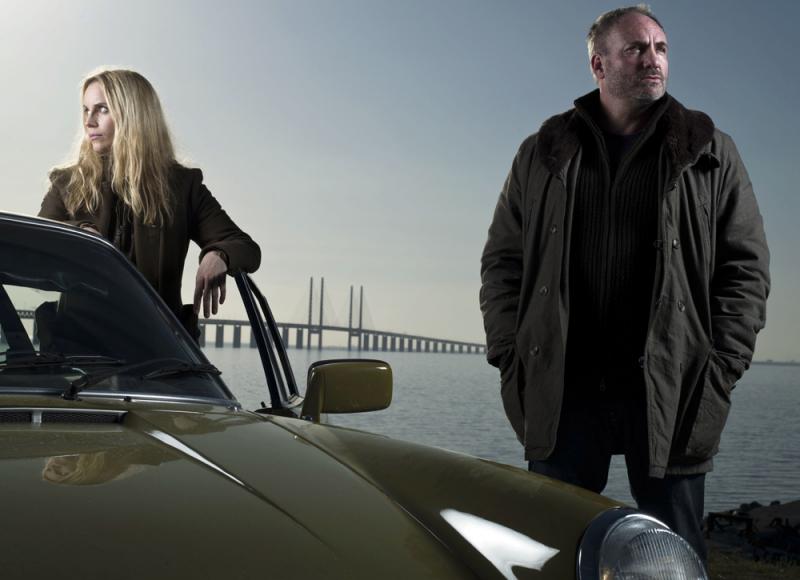 What's her deal?
Nordic crime has been all the rage since The Girl With the Dragon Tattoo but the latest import to come south, The Bridge [Bron/Broen], has a heroine who would kick Lisbeth's ass because she is the vortex of cool. Unlike seemingly every other kickass heroine these days, however, Saga didn't have to be raped to be strong — she just is intelligent, dogged and extremely tough. She seems to exhibit the characteristics of Asperger's but remains highly functional. With her Danish partner Martin, the shambling bundle of well-meaning but ego-gratifying regular guy, Saga also begins to deal with the pain in her past by studying the wreck Martin makes of his life. And she learns — Saga begins to understand human relations as she focuses her laser-like intensity on an increasingly bizarre and complicated case — and goes mano a mano with a serial killer and takes bullets and drives a Porsche. The whole case relies upon her sharp observation and razor-sharp mind.
Research:
Mini-series, dual language in Swedish and Danish. Lots of atmospheric shots of the Øresund Bridge between Mälmo and Copenhagen. Saga is played by Sofia Helin.
She Says:
 Typical behaviour has Saga evincing puzzlement and surprise that other people like praise and expect it. She often regards her colleagues as if they were some kind of alien species whose actions are often trivial and unfathomable. There's a bit of a joke here on the differences between Swedes and Danes that are not going to be too apparent to most of the viewers in English: I remember a Dane telling me quite humorously that Swedish trains don't say "No smoking" but rather "No smoking cigarettes, no smoking pipes, no smoking cigars…" Well, you get the picture. Saga and Martin just blow up the stereotypes to the extreme.
I didn't plan to watch the series. I can seldom watch a series, but I got hooked in and sat there Sat night watching it as broadcast — shrieking at the end of episode nine. Saga is well worth your time: you'll want her on your side come the apocalypse.