Oh, you knew it was just a matter of time! Looky there, Avenger and Bond Girl (and overdue for GGSA Idol status) Honor Blackman stars with stalwart Richard Briers and the legendary Alan Ford — and a bunch of young folks — in the latest zombie apocalypse with a twist and a few guffaws. You can bet the Apocalypse Gals will be there!
Cockneys v Zombies: the trailer (h/t to Lochee for the heads up!)
by Katemandi, Last Girl on Earth
What if they were 13 men, eh? I love how often men approach the apocalypse as the site for wish-fulfillment. Women tend to imagine worst case scenarios: perhaps those two tendencies are related…
Dig that high hat! The Renegades rock.
The earlier version by Bill Haley & his Comets
by The Shloo
Shoot to kill and can 'em up.
That's it in a nutshell. There are few philosophies smarter because when the world's getting its apocalypse on you have few other choices. Best you get your head round that from the get-go.
I started shooting when I was eight years old. Air rifles mainly, but by ten I was shit-hot with a bow and arrow. Mum always said they'd make the best weapon anyway – when the bullets run out, who's going to be making new ones? Arrows, on the other hand, are relatively easy to make. I can shape a bow out of a piece of willow  – or pretty much any tree with enough bend in it  – in less than three minutes. A clutch of arrows will take me another five, tops. Robin Hood would weep at the skill in my fingers.
And I never miss.
Our bunker's pretty sweet. There's a room full of bunk beds that are more comfortable than they look, a pretty well-equipped kitchen, a library, a bathroom, a canning room – my Mum's mantra is 'waste not want not' – and a big communal living area. Dad and Zeke worked hard and it paid off. Speaking of Zeke, my brother and I were both trained in and for almost anything you can imagine: hand-to-hand combat, gas attacks, nuclear fallout, weapon making, foraging, first aid – you name it, we went over it. Sewing's my weak point, truth be told, but at least I've stopped sewing stuff to my jeans and Mum says I sew a pretty strong stitch. That's what matters.
Of course, I've not had what you might call a normal life.
Hardly a surprise, is it? Survivalists? Maybe, but we call ourselves "sensible" – what else would you call those not blind to the inevitable? I was picked on sometimes at school, but after the suspension – and the scrum half's snapped wrist (thanks Dad, for those self-defence drills) – I was left alone. I didn't go to dances, never been for a sleepover, never even sat with anyone else for lunch. I didn't get to do any of that 'normal' stuff. Getting attached to people only makes it harder in the long run. It would have made me sad once (I've got hormones and hopes just like anyone else), but you've got to focus on what's important.
To hell with normal anyway!
Is it normal to sit and wait for Johnny Mutant to come eat your brains? To wait while the nuclear fallout burns through your guts and your brain spills out the bottom of your spine? To pretend there's hope, that someone out there's coming to save you? They're not, y'know. If you don't want to end up a splatter-fest of ex-human, then you'd better get wise.
There's no time for frills and fancy, there's only one prize and that's life – or at the very least dying on your own terms. I'm old enough to know that. The future is about survival. It's all it's ever about. I wised up to that the day I heard Dad telling Zeke that me and Mum were the weak link, that we were the ones who would most likely slow them down and that if he needed to get rid of us, he wouldn't hesitate. I didn't understand. I was a good learner, better than Zeke who was a lazy crumb. I was better with a bow and arrow and I could climb a tree in half the time he could. Just because he could dig earth for longer, I was the dead weight? Like digging a hole and carrying heavy stuff makes the difference when the chips are down? As far as I could see, the difference that marked us out in Dad's mind was that I was a girl and Zeke was a boy – his boy. I was eleven years old and from that day on I hated my Dad, hated him for marking me out as mattering less because I'm a girl, for seeing me as an albatross and not an asset. It was also the day I decided one thing –
I wasn't going to be left behind. You shouldn't be either.
Ironic really that Dad was the first to get bit. I had to shoot him; Zeke froze like he'd learned nothing all those years. Typical. So I shot my Dad in the head and then when Zeke got violent a couple of months later – the isolation got to him bad – and went all frothing-at-the-mouth crazy, I shot him too. If he hadn't tried for the door I wouldn't have had to do it. We don't know what's out there. Still, at least his death won't be in vain. Mum can pickle anything and what's left goes in the cans.
So that was the last of our bullets. Mum and me? We won't need them, we're prepared.
    Visit The Shloo on Facebook or drop by her blog.
by Katemandi, Last Girl on Earth
What would you do to keep your family alive?
We tend to think of the zombie apocalypse with pyrotechnics, unspooling in the crowded streets of big cities with ample armed forces in place to protect the citizens from the ravening hordes (at least at first). But what happens off in the periphery where people are left to their own devices?
From Familiar Productions LLC, director Ryan Lieske brings to life a gruesome little tale from acclaimed horror writer (and super-nice person) Elizabeth Massie. Abed offers a unique angle on the zombie narrative, one that focuses the horror on the human costs. In the interests of full disclosure, I should say that some of the folks involved in the film are friends and I was part of the Indiegogo project that funded its filming (and thus get a thanks along with all the funders in the credits). I think this will become more common as projects go direct to their potential audiences for funding and cut out the middle men.
For a film with a shoestring budget, it looks awfully good. There's a texture and palette to the visuals that lends richness to the story. The acting is mostly quite natural and convincing, especially stars Rachel Finan (Meggie) and Daniel E. Falicki (Quint) who carry the film by providing its heart. I found Mama, played by Vicki Deshaw-Fairman, a little too mannered at times, but not distractingly so. There was an extra level of creepiness for me because it was filmed near where I grew up, so the familiarity of the landscape and accents made the story even more uncanny. Great make-up and art direction. The music by Tom Ashton enhances the atmosphere without ever overwhelming it.
I've watched a lot of horror films and find it rare to actually feel horror while watching one: Abed will fill you with horror. Like a lot of Massie's tales it's not initially the "in your face" kind, but subtly creeping up until you wonder how things got so bad. This is a truly unsettling story; not for everyone! Lieske and crew have done a wonderful job at bringing the story to life. You invest in the characters and believe in the lengths people will go to for the ones that they love. You'll shudder. This film will stay with you. Well done.
It's going to be making the rounds of festivals, so with luck news soon about distribution. Drop by their Facebook page for updates.
Buy the original story for 99¢
by Katemandi, Last Girl on Earth
Got zombies? Need to predict their next move? You need the Zombie Tarot!
Our fave zombie novelist Dana Fredsti has reviewed the deck at length, which she calls, "cool, clever and beautifully illustrated."
Lyn over at the Witch Blog has a wonderful video review of the brand new tarot deck designed for the vagaries of the undead apocalypse: Zombie Tarot. Let's have the lovely Lyn take over:
Drop by the Witch Blog for all your witchy needs! Drop by Zhadi's Den to keep up with Dana's climb up the ladder of success. And pre-order your tarot deck today!
Know Your Idols #26 Saga Noren
by Katemandi, Last Girl on Earth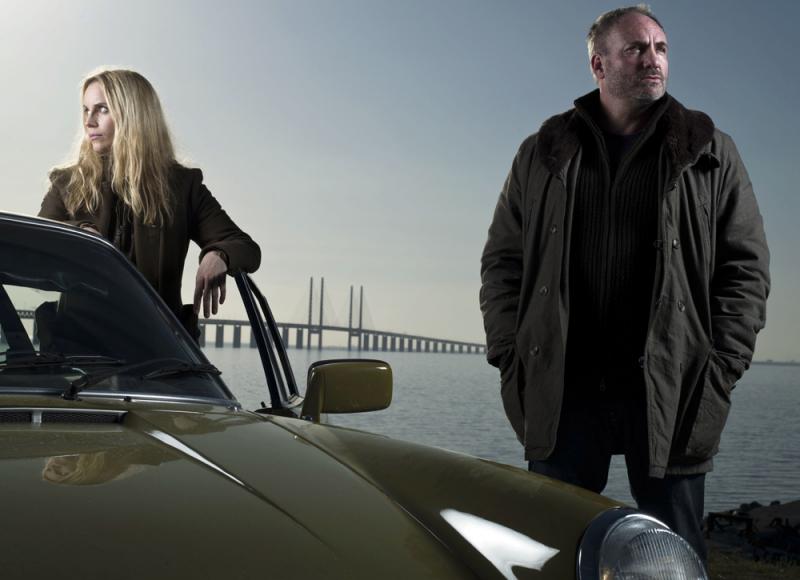 What's her deal?
Nordic crime has been all the rage since The Girl With the Dragon Tattoo but the latest import to come south, The Bridge [Bron/Broen], has a heroine who would kick Lisbeth's ass because she is the vortex of cool. Unlike seemingly every other kickass heroine these days, however, Saga didn't have to be raped to be strong — she just is intelligent, dogged and extremely tough. She seems to exhibit the characteristics of Asperger's but remains highly functional. With her Danish partner Martin, the shambling bundle of well-meaning but ego-gratifying regular guy, Saga also begins to deal with the pain in her past by studying the wreck Martin makes of his life. And she learns — Saga begins to understand human relations as she focuses her laser-like intensity on an increasingly bizarre and complicated case — and goes mano a mano with a serial killer and takes bullets and drives a Porsche. The whole case relies upon her sharp observation and razor-sharp mind.
Research:
Mini-series, dual language in Swedish and Danish. Lots of atmospheric shots of the Øresund Bridge between Mälmo and Copenhagen. Saga is played by Sofia Helin.
She Says:
 Typical behaviour has Saga evincing puzzlement and surprise that other people like praise and expect it. She often regards her colleagues as if they were some kind of alien species whose actions are often trivial and unfathomable. There's a bit of a joke here on the differences between Swedes and Danes that are not going to be too apparent to most of the viewers in English: I remember a Dane telling me quite humorously that Swedish trains don't say "No smoking" but rather "No smoking cigarettes, no smoking pipes, no smoking cigars…" Well, you get the picture. Saga and Martin just blow up the stereotypes to the extreme.
I didn't plan to watch the series. I can seldom watch a series, but I got hooked in and sat there Sat night watching it as broadcast — shrieking at the end of episode nine. Saga is well worth your time: you'll want her on your side come the apocalypse.
by Katemandi, Last Girl on Earth
The GGSApocalypse Girls are happy to award the Jonesy Merit Badge to Anne Billson for various contributions to cat-kind, not least of which her blog celebrating moggies in movies, "Cats on Film", but in particular for her retelling of Alien from the point of view of the most important personage on board the Nostromo.
Jones the Cat, of course!
Get Anne's "My Day by Jones: The Cat's Eye View of Alien" for 99¢ over at Smashwords or Amazon. Here's the blurb: Remember Jones, the ginger cat from the 1979 movie Alien? Of course you do. If you ever wondered what the events of the film looked like from his angle, here – at last – is a short story that gives you the cat's-eye view. And if you never gave it any thought… well, maybe it's time you did. Because you know what cats are like. 
It's hilarious to read Jones' description of life with the "can-openers" and the sudden arrival of a new creature on the ship expressed in decidedly feline terms. The ebook also contains a teaser chapter of Suckers, Billson's satirical vampire novel. Also be sure to check out the various collections of Billson's writing on film including reviews and her column from the Guardian. See her blog for details.
Congratulations on your Jonesy, because we know you'd always go back for the cat!
Don't forget to add your suggestions for those worthy of winning GGSA merit badges and get your sashes at the ready!
UPDATE: Jonesy now featured at Bleeding Cool! Well done, Billson.
by Katemandi, Last Girl on Earth
Tip o' the hat to alert reader Terry Doherty who spotted this news story that suggests once again, as George Santayana wrote, that those who do not learn from history are condemned to repeat it:
Did Zombies Roam Medieval Ireland?

Two 8th-century skeletons with stones shoved in their mouths suggest that the people of the time thought so
THE GIST
Archaeologists in Ireland have unearthed two 8th-century skeletons buried with stones stuck into their mouths.
They believe this could have been a way to ensure the dead did not rise up like zombies.
Bodies identified as revenants or the "walking dead" tended to be people who had lived as outsiders.
This 8th-century skeleton was found in Ireland recently with a large stone shoved in its mouth. Click to enlarge this image.
by Chris Read
Two early medieval skeletons were unearthed recently in Ireland with large stones wedged into their mouths — evidence, archaeologists say, that it was feared the individuals would rise from their graves like zombies.
The skeletons, which were featured in a British documentary last week, emerged during a series of digs carried out between 2005 and 2009 at Kilteasheen, near Loch Key in Ireland by a team of archaeologists led by Chris Read from the Institute of Technology in Sligo, Ireland and Thomas Finan from the University of St. Louis.
The project recovered a total of 137 skeletons, although archaeologists believe that some 3,000 skeletons spanning from 700 to 1400 are still buried at the site…
Read the rest at Discovery News.
by Katemandi, Last Girl on Earth
We are chuffed to have the one and only Dana Fredsti dropping by today as a part of the big PLAGUE TOWN blog tour; remember, you have a chance to get a zombie named after you. See the Titan Books site for details. Dana writes mysteries and romance as well as this new kick ass series: she's got something for every reader!
Plague Town Pandemic Tour: Stop 7
A zombie virus of guest articles, Q&As and excepts from new urban fantasy novel, Plague Town, will be infecting websites, blogs and social media accounts across the globe to offer readers the chance to win a signed copy of Plague Town and have a character named after them in the next novel in the series!
Apocalypse Girls are the seventh stop on the 'Plague Town Pandemic Tour'.
Collect the fifth word hidden in CAPS at the end of this article along with a sequence of eight others on blogs and websites outlined in the link below; tweet the sentence you've discovered to @TitanBooks and @zhadi1 with #PlagueTown before April 23rd.
Q: Are you ready for the apocalypse?
Well, we have a pretty decent earthquake kit, lots of bottled water (in fact, I think I'll pick up another case because between me, Dave and the cats, we go through a lot of water), a good supply of wine (very important!), and a pretty defensible house other than the master bedroom window. And even that could be fortified. We also have weapons and know how to use 'em. I think the only shortages would be cat food, cat litter and toilet paper if we were holed up for a long time. So better lay in a better supply of both of those too! Mentally and emotionally, I don't think people are ever ready until something catastrophic actually happens. I'm fairly pragmatic so I like to think I'd deal with things without going catatonic or crazy.
Q: What do you think belongs in a bug out bag?
Unless I can fit all my cats, nothing. I won't be bugging out 'cause I have a fairly defensible setup here at home… and I would not be able to live with myself if I left my cats behind. And I have a few too many to fit in a bag.
Q: What are your favourite end of the world stories?
Swann Song, The Stand, Dawn/Day of the Dead (original), the Autumn Series by David Moody, Dust and Decay by Jonathan Maberry. Solarbabies (because yes, it IS so bad… and the best paved post-apoc landscape evah) World War Z… and so many more!
Q: How important are martial arts skills to survival after the apocalypse?
Training in martial arts gives a person a sense of their own body. I sucked at ballet until I studied karate for a few years, and suddenly my body and how it worked made sense. With that kind of control and understanding, a lot of other physical activities were opened up to me. And I felt more confident in general. So… I'd say very important if just for a sense of how to use one's body as a weapon and to have enough confidence to fight for survival. If you're really damn good, you'll be able to defend yourself against those inevitable rapacious biker gang/religious zealot group/etc. as well as keep those stinky flesh-eaters off your ass.
Q: What kind of role model does Ashley Parker offer to GGSA fans? Strengths? Weaknesses?
She will not give up and she's ethical. She does NOT have a tramp stamp crawling out of her butt crack. She keeps a sense of humor as much as possible and won't put up with gratuitous crap from anyone. I love her empathy. That, however, is both a strength and a weakness.
Q: How important is a sense of humour for survival?
For me? Essential. Without it, life is bleak and crappy . If you can't find humor in adversity, especially when that adversity is going to be a pretty constant companion for a long damn time… you might as well just kill yourself or become a Goth.
Q: What's your motto for the coming apocalypse?
Lock and load. And go back for the cats.
A delight, as always Ms F! Here's a snippet for your reading preview pleasure, apocalypse fans:
Josh and Jason had suffered less mutilation than Maggie. They traveled with her, some atavistic bond keeping them near even though their corpses were capable of moving much more quickly.
They were all hungry. Their last meal had been a week ago when they'd stumbled across one of the houses scattered through the mountains above Redwood Grove. There had only been one skinny teenager at home when they'd arrived, and by the time the three had eaten their fill, all the reanimated remains could do was flop and wriggle about on the floor.
Still their hunger persisted.
The sound of motors turned the trio towards a break in the trees. Vehicles painted in forest camouflage rumbled by on the road below.
Food.
Two weeks stumbling through dense forests with only the occasional meal had taken its toll on Maggie, and she quickly fell behind as Josh and Jason moved with a swift, single-minded purpose down a steeply graded hill that ended in a sheer drop-off. Neither zombie had the coordination stop from tumbling over the edge to the rock-strewn canyon below. Josh's limbs shattered while Jason got lucky and fell on what used to be his father, rolling off without damage. Driven by mindless appetite, he slowly got to his feet and lurched off into the forest, leaving Josh to writhe hungrily on the ground.
Meanwhile Maggie had veered off in a different direction as the sound of trucks moved off into the distance. Lights shone down below the tree line.
Lights meant food…
Pick up Plague Town today and be sure to check out Dana's website as well as Titan's page for Plague Town. She's also on Twitter.
CODE WORD 7: WAKING
For full details of the tour and terms and conditions visit:
http://titanbooks.com/blog/dana-fredstis-plague-town-pandemic-tour/
Plague Town by Dana Fredsti is published by Titan Books, 20th April, £7.99.