Apocalypses come and go, but there will always be people needed to survive. You see, if no one survives an apocalypse, how do we know we've had one? I mean, until we get *clever*, and start digging around in the dirt for things, uncovering evidence and all that… Which is great, if the apocalypse you're looking into is off the back of a huge chunk of frozen space metal hurtling into the planet, causing earth-wide devastation…
Times have moved on since then.
I rather suspect that more recent apocalypses have gotten a bit more sneaky in their approach…
Enter stage left.
A pink haired, doc marten wearing, emergency go bag carrying gal walks into view. You get am immediate sense that she doesn't take kindly to crap, and has a veteran look about her. Oh yes. Definitely been around the block a couple of times and seen some things, this one. Her eyes expertly rove around the room, mentally checking off a list, though you aren't quite sure what that list is; good points for duck and cover, who'd be easiest to kill, or simply what shopping is needed to make dinner; in any case, it's a little unsettling.
After a few moments, she seems to have made up her mind, and the boots come off, and she makes a cubby in the corner of the room, still watching, and waiting on the coming storm….
Lara Croft started life as a pixelated person running around stealing stuff and shooting people and endangered or even previously thought extinct species. Her mythology has developed somewhat since then. This present day female Indiana Jones has a series of games, two movies where she is played by Angelina Jolie, comics and has been portrayed by a series of models.
What's her deal?
Lady Croft (as she certainly was in the movies if not before) is a tough and beautiful tomb raider, addicted to the adventure, fearless and ruthless if she has to be, she is in it for the crack rather than the money and certainly not seeking world domination. Adventure and danger for the sake of it, which is of course why we like her. It's all well and good being strong and brave when you have no choice, but when you just think it looks like fun, that puts you in a different league.
She Says:
Lara Croft (Tomb Raider Legend 2006): I don't know, let's see. Try begging for your life like you did the last time we spoke.
Lara Croft (Tomb Raider Legend 2006): Make sense right now or I swear I will execute you right where you stand!
Lara Croft (Tomb Raider film 2001):  I woke up this morning and I just hated everything.
Lara Croft (Cradle of Life 2003) : Please. You don't think I'd go vaulting into thin air for nothing, do you? I put a tracer on the crate.
Research
Lara Croft Tomb Raider movie 2001
Lara Croft Cradle of Life movie 2003
Tomb Raider video games series
Tomb Raider comics Top Cow.
A contemporary idol and adventurous spirit. Lara is wilful, independent and in spite of her dubious career does the right thing when it really counts. A great idol for an apocalypse girl.
By Battleaxebunny
A librarian and archaeologist, Evelyn Carnahan has saved the world from three mummy apocalypses whilst raising a family, dealing with a slightly flaky brother, building a career as a romance novelist and occasionally taking part in a little bit of wartime espionage.
What's her deal?
A librarian working in the Museum of Cairo, Evelyn's passion is archaeology and when her brother turns up with an artefact connected to the legendary city of Hamunaptra, Evelyn gets her chance to break into the world of adventure-archaeology.  After some smart negotiating with a prison warden she secures the release of her future husband Rick O'Connell and along with him and the aforementioned brother, they set off into the desert to find the lost city.  Hijinx, quite naturally, ensue.
There are rival archaeologists and a secret group of mummy guardians to deal with, but those are just warm up for the mummy shenanigans that kick off after Evelyn accidentally says the spell to awaken Imhotep, cursed priest of Seti I. He wants to take over the world and resurrect his lost love using Evelyn as a sacrifice, but Evelyn's not the type to go quietly – it's her understanding of ancient Egyptian that proves the key to the creature's downfall and with the first mummy apocalypse averted, she settles into a life of archaeology with Rick and young son Alex.
Except then Imhotep's dead mistress gets reincarnated and manages to resurrect him and it's time for mummy apocalypse the second: this time Evelyn must find her kidnapped son, deal with a rush of new visions suggesting she's the reincarnated daughter of Seti I and stop Imhotep from using the Scorpion King and the Army of Anubis to take over the world. Again.  While husband Rick is ultimately the one to stop the Scorpion King, it's Evelyn and her vast store of knowledge on ancient things, that helped them find the secret lair and gave Alex enough skill in Ancient Egyptian to read the resurrection spell that brings her back after she takes a mortal injury.  Not only that but she also proves herself an able fighter both in hand to hand combat and with a variety weapons – which comes in useful when assorted minions threaten her nearest and dearest.
Even after the world's been saved a second time, she doesn't rest on her laurels.   She assists MI-5 with a little wartime espionage then retires to begin yet another career as a novelist; and that's before you get to the unfortunate events with the undead Chinese emperor and his army of mummies doing battle at the Great Wall of China which tests her full range of skills once more…
She Says:
Evelyn: Look, I… I may not be an explorer, or an adventurer, or a treasure-seeker, or a gunfighter, Mr. O'Connell, but I am proud of what I am.
Rick: And what is that?
Evelyn: I … am a librarian.
You know, nasty little fellows such as yourself always get their comeuppance.
You better think of something fast, because, if he turns me into a mummy you're the first one I'm coming after.
Research:
The Mummy (1999)
The Mummy novelisation by Max Allan Collins
The Mummy Returns (2001)
The Mummy Returns novelisation by Max Allan Collins
The Mummy: Tomb of the Dragon Emperor (2008)
The Mummy: Tomb of the Dragon Emperor novelisation by Max Allan Collins
Intelligent and adaptable, Evelyn is an expert at turning her skills to whatever is needed in order to protect her friends and family from the onslaught of undead creatures that seem to plague them.  While her ability to quickly learn new combat skills is a handy thing to have, what is more valuable are the benefits brought by her extraordinary mind – and as an enthusiastic teacher of historical and linguistic knowledge, she doesn't just use her knowledge to stop apocalypses but is good at preparing other people for future trouble too.
Battleaxebunny out.
If you are a trekkie you will know Seven of Nine. She appears in Star Trek Voyager, a borg rehumanised by Captain Janeway, she's the Voyager answer to Data or Spock, and she's awesome. This beautiful borg has a lot to teach us about adaptation, determination and being a tough cookie.
What's her deal?
Seven of Nine was captured by the Borg along with her family when she was a child, assimilated into the Borg collective. Having been assimilated so young Seven has no real memory of who she used to be so when she is cut off from the collective she is utterly lost and distressed. Never the less she is tough and adaptable and with the help of Voyager's crew she begins to recover some of her humanity and become a valued and brilliant member of the team.
She Says:
Seven of Nine: I assure you, resistance is futile.
Seven of Nine: As we approached Borg space, I began to re-evaluate my future. The prospect of becoming a drone… was unappealing.
Capt. Kathryn Janeway: Sometimes you've got to look back in order to move forward. Sounds to me like you're starting to embrace your humanity.
Seven of Nine: No. But as I said – nothing is impossible.
Seven of Nine: Those orders were the result of Starfleet's ignorance and fear. I can alleviate your ignorance. As for your fear…
Reasearch:
Star Trek Voyager
Clear, decisive and logical Seven of Nine is a survivor above all.
She does seem to end up with a series of ridiculously tight outfits but she rocks it.
You may not have heard of Fox. (Depending on the context, that's not altogether a bad thing, for reasons which will be abundantly clear if you've ever come across Mark Millar's "Wanted" comic.) But if you have heard of her, there's a good chance it will be via the Timur Bekmambetov film, where she's a completely different animal and portrayed by Angelina Jolie on top tattooed, ass-kicking form.
What's her deal?


Fox is a member of the Fraternity – an elite group of assassins – recruited after her DA father was murdered by a mob boss. Distant and often aloof, she may not say much but she's always watching. And when she does have something to say, it's worth listening.
Unflappable, with a hell of an aim, she thinks nothing of climbing out of the windscreen of a speeding car just so she can get a better shot at her target. And, frankly, who hasn't wanted to do this in a grocery store once in a while? Fast driving, fast shooting, brass-knuckle wearing… Fox is a tough one to crack.
Determined, ruthless and brave enough to stand in front of a bullet,  she's a woman in a man's world and one impressive lady; willing to live and die by her code of honour.
She Says:
"You apologise too much."
"We kill one, and maybe save a thousand. That's the code of the Fraternity. That's what we believe and that's why we do it."
Research:
"Wanted" (2008), IMDB, Wanted Wiki
—Daystar out—
A historical figure once again for Idols today, you have probably heard of her, a strong British tribal leader who took on the Roman empire and, while she didn't win, she gave them a hiding they weren't going to forget.
What's her deal?
Boudica's husband was an Iceni ruler in cooperation with the Romans, until he died. Then the Roman's saw fit to bit Boudica and rape her daughters. Rather than letting them break her Boudica fought back, gathered the British tribes and devastated the invading forces. Sadly our fierce Brit was eventually defeated, no one knows exactly where but one possible location is right in my home county Leicestershire. It was a massive defeat, the combined tribal forces were decimated and the Roman's barely touched. This woman had sacked the Roman capitol in Britain  (now Colchester) making her a brutal legend, but now she had made a mistake and ridden everyone into an ambush. After that the Queen is largely speculated to have committed suicide, some versions simply have her falling ill and dying.
She says:
Clearly we don't have any quotes from this warrior but this is said about her
"Boadicea was tall, terrible to look on and gifted with a powerful voice. A flood of bright red hair ran down to her knees; she wore a golden necklet made up of ornate pieces, a multi-coloured robe and over it a thick cloak held together by a brooch. She took up a long spear to cause dread in all who set eyes on her."
Boudica wrote the book on revenge (figuratively, i know what you lot are like and no it's not on amazon), but aside from that, here was a woman who faced with the patriarchal society of Rome and denied her inheritance not only took it back, but united the disparate tribes of the UK to follow her. She had a powerful will and was incredibly strong. She is an example to everyone that you cannot define people by their gender, or limit them because they are women. Trying to is dangerous, push women down hard enough and when they rise up you have legends like this women who sacked Colchester, London and St Albans and is believed to have left 70,000 dead in her wake, before her defeat in the Midlands.
Apocalypse Girls, take note and own your individual power.
Ok we've all seen the Disney film and it's great, but Hau Mulan was a figure from Chinese history that became something of a legend and had a poem about her that is believed to have been transcribed in the 6th Century. Long before the suffragettes we had Mulan.
What's her deal?
Well Disney was actually on the nose with this, when Hau Mulan's elderly father was called up to serve the army she took his place. From there the stories differ, but either is good. The historical figure served for 12 years, working her way up the ranks, gained great honour and retired quietly to her home town. It's thought she lived during the Nothern Wei Dynasty (386-534).
Disney has a rather more fanciful version with Eddie Murphy as a tiny dragon Mushu. Still it's a good fun romp and covers the same basic principle, girl replaces elderly father Fa Mulan, girl kicks ass at being a warrior and wins respect and honour for her family.
Research:
Disney movie Mulan
She Says:
My ancestors sent a little lizard to help me?
Just because I look like a man doesn't mean I have to smell like one
Uhh… I mean, uh, sorry you had to see that, but you know how it is when you get those, uh, manly urges, and you just gotta kill somethin'… fix things, uh, cook outdoors…
Putting aside the Disney fun briefly, Mulan was a true idol, a girl in a patriarchal world who stood up and took arms for love of her father and her families honour.
Here is what I could find online of the poem 'Ode to Mulan'
Tsiek tsiek and again tsiek tsiek,
Mu-lan weaves, facing the door.
You don't hear the shuttle's sound,
You only hear Daughter's sighs.
They ask Daughter who's in her heart,
They ask Daughter who's on her mind.
"No one is on Daughter's heart,
No one is on Daughter's mind.
Last night I saw the draft posters,
The Khan is calling many troops,
The army list is in twelve scrolls,
On every scroll there's Father's name.
Father has no grown-up son,
Mu-lan has no elder brother.
I want to buy a saddle and horse,
And serve in the army in Father's place."
In the East Market she buys a spirited horse,
In the West Market she buys a saddle,
In the South Market she buys a bridle,
In the North Market she buys a long whip.
At dawn she takes leave of Father and Mother,
In the evening camps on the Yellow River's bank.
She doesn't hear the sound of Father and Mother calling,
She only hears the Yellow River's flowing water cry tsien tsien.
At dawn she takes leave of the Yellow River,
In the evening she arrives at Black Mountain.
She doesn't hear the sound of Father and Mother calling,
She only hears Mount Yen's nomad horses cry tsiu tsiu.
She goes ten thousand miles on the business of war,
She crosses passes and mountains like flying.
Northern gusts carry the rattle of army pots,
Chilly light shines on iron armor.
Generals die in a hundred battles,
Stout soldiers return after ten years.
On her return she sees the Son of Heaven,
The Son of Heaven sits in the Splendid Hall.
He gives out promotions in twelve ranks
And prizes of a hundred thousand and more.
The Khan asks her what she desires.
"Mu-lan has no use for a minister's post.
I wish to ride a swift mount
To take me back to my home."
When Father and Mother hear Daughter is coming
They go outside the wall to meet her, leaning on each other.
When Elder Sister hears Younger Sister is coming
She fixes her rouge, facing the door.
When Little Brother hears Elder Sister is coming
He whets the knife, quick quick, for pig and sheep.
"I open the door to my east chamber,
I sit on my couch in the west room,
I take off my wartime gown
And put on my old-time clothes."
Facing the window she fixes her cloudlike hair,
Hanging up a mirror she dabs on yellow flower powder
She goes out the door and sees her comrades.
Her comrades are all amazed and perplexed.
Traveling together for twelve years
They didn't know Mu-lan was a girl.
"The he-hare's feet go hop and skip,
The she-hare's eyes are muddled and fuddled.
Two hares running side by side close to the ground,
How can they tell if I am he or she?"
Know Your Idols #26 Saga Noren
by Katemandi, Last Girl on Earth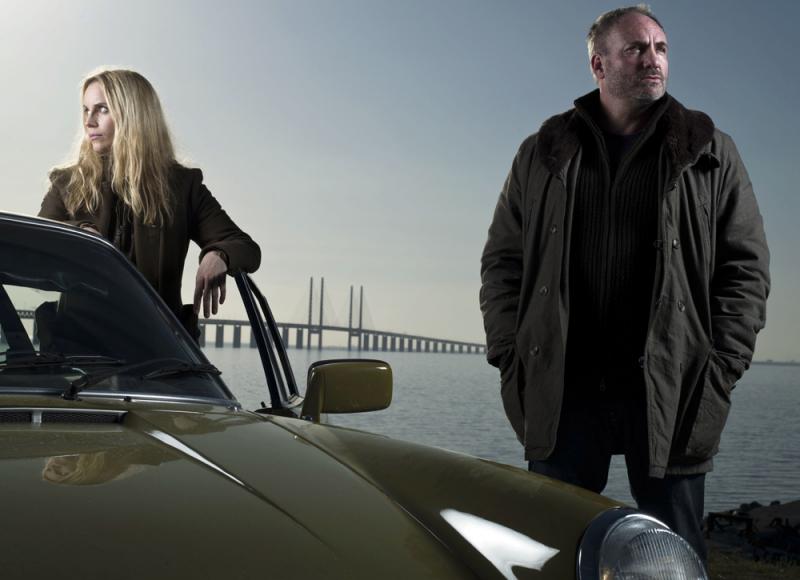 What's her deal?
Nordic crime has been all the rage since The Girl With the Dragon Tattoo but the latest import to come south, The Bridge [Bron/Broen], has a heroine who would kick Lisbeth's ass because she is the vortex of cool. Unlike seemingly every other kickass heroine these days, however, Saga didn't have to be raped to be strong — she just is intelligent, dogged and extremely tough. She seems to exhibit the characteristics of Asperger's but remains highly functional. With her Danish partner Martin, the shambling bundle of well-meaning but ego-gratifying regular guy, Saga also begins to deal with the pain in her past by studying the wreck Martin makes of his life. And she learns — Saga begins to understand human relations as she focuses her laser-like intensity on an increasingly bizarre and complicated case — and goes mano a mano with a serial killer and takes bullets and drives a Porsche. The whole case relies upon her sharp observation and razor-sharp mind.
Research:
Mini-series, dual language in Swedish and Danish. Lots of atmospheric shots of the Øresund Bridge between Mälmo and Copenhagen. Saga is played by Sofia Helin.
She Says:
 Typical behaviour has Saga evincing puzzlement and surprise that other people like praise and expect it. She often regards her colleagues as if they were some kind of alien species whose actions are often trivial and unfathomable. There's a bit of a joke here on the differences between Swedes and Danes that are not going to be too apparent to most of the viewers in English: I remember a Dane telling me quite humorously that Swedish trains don't say "No smoking" but rather "No smoking cigarettes, no smoking pipes, no smoking cigars…" Well, you get the picture. Saga and Martin just blow up the stereotypes to the extreme.
I didn't plan to watch the series. I can seldom watch a series, but I got hooked in and sat there Sat night watching it as broadcast — shrieking at the end of episode nine. Saga is well worth your time: you'll want her on your side come the apocalypse.
Ok now hear me out… we don't get to know Jane Marple until she is already elderly and even then she earns the epithet Nemesis from a rich, powerful, cantankerous old man. There is a lot we can learn from this elderly spinster from a Devon village.
What's her deal?
Miss Jane Marple is an elderly spinster from St Mary's Mead, a small village in Devon, not far from Torquay. The vilagers may see Marple as a nice but nosy old thing but many a murderer has fallen foul of her supremely sharp mind. Thing is, Marple messes with murderers all over the world, thanks to her endless network of nephews and friends from all walks of life, often putting herself in danger but she never falls foul of evil doers.
'Aunt' Jane is whip smart and extremely resourceful and once the local police accept that she is always right they usually cooperate.
Research:
12 novels and a number of short stories by Agatha Christie featured Miss Marple
Numerous film and TV versions however we recommend the Joan Hickson ones.
She Says:
Oh, dear. I'm afraid I must put a cat amongst the Inspector's pigeons
Lawrence Redding: Nothing gets past you, Miss Marple, does it?
Miss Jane Marple: [smiling] Hardly ever, young man.
Murder is never simple. We would be foolish, stupid, to ignore any possibility.
Miss Jane Marple: [realizing who committed the murder and how it was done, smiling] How clever! [then frowning]  How wicked!
and almost as thought it was written for the apocalypse girls
We're all very ordinary in St. Mary Mead, but ordinary people can sometimes do the most astonishing things.
Miss Jane Marple: Don't look so frightened, my dear. I've done my quota of murders for today.
Miss Jane Marple is a great example of brains over brawn and that even the frail can achieve a great deal with courage, determination and wit. As apocalypse girls we should all keep in mind that out muscled does not mean out manoeuvred. One also wonders what Jane Marple was like as a young women, given all her connections it does not make sense that she spent her whole life being proper in an English village.
by Katemandi, Last Girl on Earth
The GGSApocalypse Girls are happy to award the Jonesy Merit Badge to Anne Billson for various contributions to cat-kind, not least of which her blog celebrating moggies in movies, "Cats on Film", but in particular for her retelling of Alien from the point of view of the most important personage on board the Nostromo.
Jones the Cat, of course!
Get Anne's "My Day by Jones: The Cat's Eye View of Alien" for 99¢ over at Smashwords or Amazon. Here's the blurb: Remember Jones, the ginger cat from the 1979 movie Alien? Of course you do. If you ever wondered what the events of the film looked like from his angle, here – at last – is a short story that gives you the cat's-eye view. And if you never gave it any thought… well, maybe it's time you did. Because you know what cats are like. 
It's hilarious to read Jones' description of life with the "can-openers" and the sudden arrival of a new creature on the ship expressed in decidedly feline terms. The ebook also contains a teaser chapter of Suckers, Billson's satirical vampire novel. Also be sure to check out the various collections of Billson's writing on film including reviews and her column from the Guardian. See her blog for details.
Congratulations on your Jonesy, because we know you'd always go back for the cat!
Don't forget to add your suggestions for those worthy of winning GGSA merit badges and get your sashes at the ready!
UPDATE: Jonesy now featured at Bleeding Cool! Well done, Billson.